If you are looking for a powerful and easy-to-use maps plugin for your WordPress website, then you've come to the right place. WP Go Maps could be the answer you've been looking for. This comprehensive plugin offers a range of advanced features and customization options. WP Go Maps has quickly become the go-to choice for businesses and individuals who want to add maps to their WordPress sites.
So, what makes WP Go Maps stand out from the crowd?
First, its powerful customization options allow you to tailor your maps to your specific needs. You are able to add markers, polygons, or even custom overlays.
Second, the plugin is fully responsive, ensuring that your maps look great on any device.
And finally, WP Go Maps is incredibly easy to use, thanks to its user-friendly interface and helpful documentation.
With WP Go Maps, you can create professional-quality maps in minutes!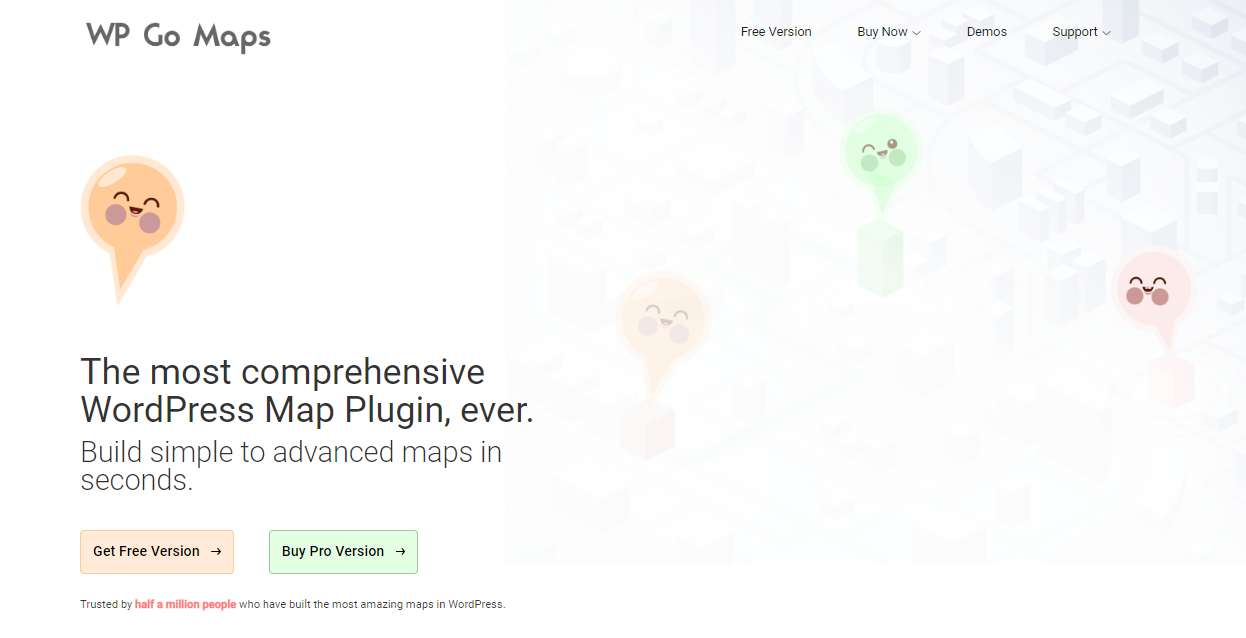 What are the benefits of having a map on a website?
Having a custom map on your website has multiple benefits:
Encourages people to visit
Shows your unique offering
Provides extra knowledge
Establishes a connection with your customers
Reinforces your brand
Allows customers to find and contact you easily
Improved user experience
In this post, we'll look beyond these already impressive capabilities. We'll explore the top 5 features of WP Go Maps that make it the best maps plugin for WordPress. From its intuitive drag-and-drop interface, to its seamless integration with the Google Maps API, WP Go Maps is packed with features that will help you create detailed and unique maps in no time. Whether you're running a local business or simply want to add interactive maps to your blog, WP Go Maps is the perfect solution!
If you're ready to find out more, then let's dive right in!
5 features of WP Go Maps that make it the best WordPress map plugin
1. Interactive Map Builder
One of the standout features of WP Go Maps is its interactive map builder. With this feature, you can easily create a custom map by adding markers, polygons, and lines to the map. You can also add content to each marker to provide your visitors with more information. The custom markers are a fun and unique addition to this plugin. 
The map builder is intuitive and easy to use, making it accessible for users of all skill levels. The builder also includes a live preview so you can see exactly how your map will look before you publish it.
2. Multiple Map Types
WP Go Maps comes with multiple map types that you can choose from, depending on your specific needs. You can choose from street maps, satellite maps, hybrid maps, and terrain maps. There's even the option to use detailed heat maps. This feature is especially useful when you need to display different types of information on your map.
For example, you might use a street map to show people how to get to your business, but use a satellite map to highlight the surrounding area or to show a particular landmark. You could also use it to display the contrasting data between certain locations.
3. Custom Map Themes
WP Go Maps also allows you to customize your map's colors to match your website's branding. With the custom map theme feature, you can change the color of the map's background, the marker icons, and even the text.
This feature is perfect for businesses that want to create maps that align with their brand colors in order to create consistency, or for bloggers who simply want to add a personal touch to their maps.
4. Advanced Map Controls
WP Go Maps comes with advanced map controls that allow you to customize the way that your map behaves when used. You can enable or disable features such as zooming, panning, and street view. You can also choose to show or hide the map's controls, including the zoom buttons and the map type selector.
This feature gives you more control over how your visitors interact with your maps, which can help improve the user experience and make your maps more intuitive to use.
5. Geolocation & Routing
Finally, WP Go Maps comes with two advanced features: geolocation and routing.
Geolocation allows you to show the user's location on the map. This can be very useful for businesses that want to provide directions, or for bloggers who want to show their readers where they're located.
The routing feature, on the other hand, allows you to display directions from one point to another. This feature is perfect for businesses that want to provide directions to their customers, or for bloggers who want to show their readers how to get to a particular location.
So, what did we learn?
WP Go Maps is the best maps plugin available for WordPress, and for good reason. Its top 5 features make it a must-have for any website in need of a dynamic and intuitive map. Whether you're running a business, highlighting a location, or simply sharing a map with your followers, WP Go Maps has everything you need to create the perfect map to suit your specific needs.
The ability to customize so many different features and choose from multiple map styles allows you to tailor your map to your own unique brand. The responsive design ensures that your map will look great on any device and that users have access to it both at home and on the go.
One of the biggest benefits of WP Go Maps has to be its user-friendly nature. Even if you have little to no experience with WordPress, you'll find that WP Go Maps is easy to navigate and customize to suit your own personal taste and style preferences. It's no wonder that WP Go Maps has become the go-to maps plugin for WordPress users across the globe.
Join the thousands of users that think we're worthy of five stars and start customizing your map today!
What features do you like best about WP Go Maps? Let us know in the comments section!