If you're hoping to create a website that ties in with your overall design and branding, then you will need to familiarize yourself with map plugins for WordPress. Integrating maps into your website can be an incredibly useful tool for businesses, bloggers, or anyone who wants to display location-based data. It's also proven to have many benefits for those with an online presence. But with so many options out there, how do you know which one is right for you?
Well, that's where we come in! Whether you're looking for a plugin that can display your location on a map, create custom maps with multiple locations, or offer directions to your business, we've got you covered. We've done the research, and here's what we found.
In this blog post, we'll introduce you to the top 6 WordPress map plugins, comparing features, pricing and everything in between:
WP Go Maps
Maps Marker Pro
Google Maps Widget
MapPress
Interactive Geo Maps
MapifyPro
1. WP Go Maps
WP Go Maps is one of the most popular WordPress plugins around. It allows users to easily create custom Google Maps on their websites, with the option to add custom markers, layers, and directions to their maps. With its user-friendly interface and a range of features, it's an excellent choice for businesses, bloggers, and anyone else looking to add a map to their WordPress site.
Key features:
Add unlimited locations.
Custom marker icons.
Custom marker labels.
Option to create a custom theme.
Select different map types (satellite, terrain, hybrid, heatmap).
Multiple layers available, including traffic and transit.
Directions for users to get to specific locations.
Responsive maps that adjust to fit the screen size of the user's device.
Pricing:
The WP Go Maps plugin is a freemium, meaning there are both free and paid versions available. The Pro add-on starts at $39.99 once off to be able to use it on up to three sites. The Gold add-on has a once off payment of $29.99, while the Visitor Generated Markers add-on is only $9.99 once off. 
The free version is more than enough if you are looking to simply embed a map on your site's contact page. However, we suggest opting for the paid versions to get the most out of this comprehensive plugin.
2. Maps Marker Pro
If you're looking for a user-friendly and feature-packed WordPress plugin to enhance your website's map functionality, Maps Marker Pro might be worth trying. It's a great choice for businesses or organizations that need robust mapping functionality on their WordPress site, without having to invest in custom development or hire a dedicated GIS team.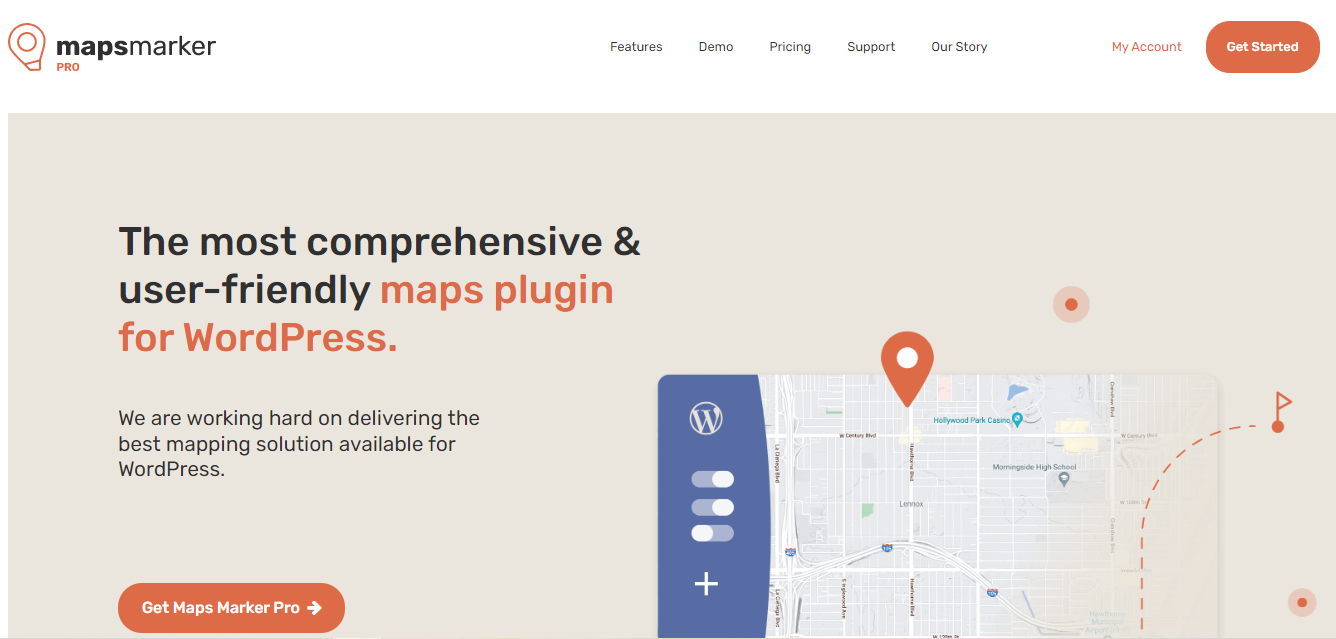 Key features:
Flexibility.
Custom markers and icons for personalization.
Mobile-friendly and responsive design.
Comprehensive search and filtering options.
Integration with popular third-party services like PayPal and Mailchimp.
Import and export functionality for easy transfer of data between sites.
Access to a large library of free and paid add-ons to extend functionality even further.
Pricing:
A personal plan includes access to all core features and up to 3 sites for around $53 per year. Business plans, professional plans and developer plans are also available for access to the more advanced features such as custom posts and styles.
3. Google Maps Widget
If your goal is to showcase your location or highlight important places of interest on a map, then the maps widget for Google Maps can help you achieve this. This maps widget is a great tool for displaying your business location, directions to your office, or even to showcase your travel destinations using a customizable map.
Key Features:
Customizable maps with different styles and colors to suit your website design.
Multiple pin markers to highlight important locations.
Customizable text, images and videos to add context to your map.
Interactive and responsive maps with zooming and street view features.
Compatible with all devices, including mobiles and tablets.
Pricing:
The Google Maps widget also offers a free and paid version. Creating custom maps and accessing real-time traffic updates or vehicle tracking features may require a paid subscription to the Google Maps Platform. Pricing for the Pro version starts at $29.99 per year.
4. MapPress
MapPress is an easy to use plugin for those wanting to create interactive maps for their sites. There is a free and paid version, depending on the features you'd like access to. It's a simpler solution for users who aren't looking for a plugin that is crammed with features.
Key features:
Add custom map markers.
Basic design that is professional and to the point.
Create an unlimited number of maps.
Option to combine different maps that you have created to enhance the interactive experience.
Create maps according to your own custom fields.
Pricing:
Pricing for this plugin starts at $49.99 per year for access to more advanced features. However, the core plugin is free to download and use.
5. Interactive Geo Maps
As the name suggests, this freemium plugin allows you to create simple, yet creative maps that provide a highly interactive experience. Interactive Geo Maps is a great tool if you're looking to create multiple maps at once, or to show more than one country at a time. This could be useful for companies who'd like to indicate if a country is on their delivery system or not.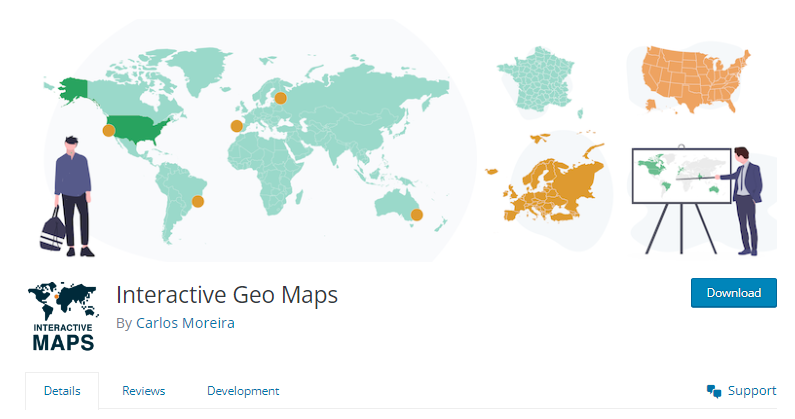 Key features:
Ability to add colors and images to markers.
You can export the map as an image or PDF for offline use.
Responsive designs for various devices.
Create multiple maps at once.
Ability to connect different points on a map.
Pricing:
The free version is perfectly suited for creating simple maps that tie in with your overall design. If you want to go into further detail and try some of the extra features, pricing starts at only $39.99 annually.
6. MapifyPro
MapifyPro makes use of a unique API key for their maps, so it doesn't rely on Google Maps for its displays. The all-encompassing plugin offers a wide variety of features, including custom markers and embedding options. It also gives users the option of multiple integrations with services like WooCommerce.
MapifyPro has a very unique feature – the interactive map legend. This allows you to create a customizable key for markers that appear on your map, allowing users to find the places they are looking for with absolute ease.
Key features:
Again, the interactive map legend.
Ability to add images and videos to your maps.
The map locations are shareable on social media.
Various integrations available.
Responsive map designs.
Pricing:
This plugin offers both free and paid versions. For $19 per month, you can create highly interactive maps with any animated icons of your choice. There's also an option to use a developer's license for $99 a month. Annual billing options are also available.
So, here's what we know…
Mapping your website can enhance your users' experience, increase user engagement, and provide value to your website's purpose. Whether you're a blogger, business owner, or just looking to spice up your website, there are so many plugin options available.
When selecting a map plugin, make sure that it fits your needs and offers features that are important to your website's purpose. Consider your budget, technical expertise, and user requirements before making a purchase.
The best WordPress map plugin for your website will depend on your goals, budget, and needs. But whichever one you choose, a map plugin will add a new level of engagement and interactivity to your website, making it more user-friendly and appealing.