WP Go Maps is one of the most popular WordPress mapping plugins around today. It's used by everyone, from bloggers, to businesses and marketers. It gives people the opportunity to create interactive maps that can be embedded into their websites. There are so many creative features available with this plugin, but we're here to specifically talk about the Visitor-Generated Markers Add-on.
This add-on allows visitors to your website to add their own markers to your map. These markers can be used to highlight specific locations or to provide information about businesses, landmarks, or events.
In this blog post, we're going to show you the benefits that come with taking advantage of this unique feature. Let's jump right into it!
10 Benefits of Using the Visitor-Generated Markers Add-on
1. User-generated content
The WP Go Maps Visitor-Generated add-on allows its users to add multiple locations to a map. The goal is to make it an interactive and collaborative platform where visitors can share different information.
By allowing visitors to add their own locations, this particular add-on aims to encourage user engagement and participation. Visitors are able to contribute valuable information about locations that haven't been marked on the map yet. This helps make these maps more useful with each contributing visitor.
Search engines have been known to prioritize websites with fresh, relevant user-generated content over websites with static information. This means that using the visitor-generated add-on can help improve a website's ranking by regularly adding new and relevant content.
2. Increased engagement
Allowing visitors to directly and easily interact with your website through this add-on encourages them to stay on your site longer than they typically would. Giving them the ability to add their own markers to your map improves their engagement with your site. This can help to increase the amount of time that visitors spend on your site. As we all know, the lower your site's bounce rate, the bigger chance you have of improving your site's search engine rankings. Visitors will also be more inclined to share your website with others, helping increase the flow of traffic to your site and gain more potential customers. 
3. Accurate data
Since the information is submitted by users who have first-hand knowledge of the location, the data is more accurate and up-to-date than other sources. The Visitor-Generated Markers Add-on gives you a way to tap into the collective knowledge of your visitors.
By allowing them to add markers to your map, you can gather valuable information about local businesses, events and attractions. This information can be used to create more detailed and informative maps. These can then be used to attract more visitors to your website and help owners make more data-driven decisions.
4. Enhanced user experience
The Visitor-Generated add-on makes it easier for users to navigate and explore a specific location. When visitors have the option to add markers to your map, they can create a customized experience that's tailored to their needs. They can add markers for locations that are important to them, whether it's their favorite restaurants, local landmarks, or places of interest. This can help to improve their overall experience on your website and increase the chances of return visits from viewers.
5. Cost-effective
With WP Go maps, you don't have to hire someone to create and maintain maps. It's a great way to save valuable time and money! All it requires is a one-time purchase, which means that you can use the plugin for as long as you want without any additional costs. Once you purchase the plugin, and add the VGM add-on for $9.99, you can use it on multiple websites without having to pay extra.
The comprehensive plugin is incredibly user-friendly and easy to use. You don't need to have any technical knowledge or coding skills to use it, again saving you time and money on hiring a developer.
6. Increased traffic
When users share their experiences and insights about a location on the map, it can help drive traffic to your website and increase your visibility. The markers that are added by visitors are creating unique content.
If you want to expand your reach even further, you could share these markers on social media. This can help increase the visibility of your website, while attracting more visitors. If you have a social media presence, you can use these markers to your advantage. For example, you could share a post on social media highlighting the most popular markers on your map, which could encourage more people to visit your website and add their own contributions.
7. Mobile-friendliness
The WP Go maps visitor generated add-on is mobile-friendly, granting easy access to your site through their mobile devices or tablets. Mobile usage is increasing, with over 58% of organic search visits coming from mobile devices. 80% of people rely on these searches for local information as well. This means that a large number of people access websites through their cell phones, and a website that is not mobile-friendly can lose out on potential customers or visitors.
8. Improved SEO
Showing users that you have an interactive and engaging platform on your site can drastically improve your site's SEO ranking. When visitors add markers to your map, they are essentially creating user-generated content. This content is then indexed by search engines, helping to improve your website's search engine rankings. Bottom line – The more content you have on your site, the more likely it is that visitors will find your site through search engines.
9. Enhanced customer experience
This unique add-on allows users to add images and comments to various markers, providing a more comprehensive view of the location they're exploring. This encourages customer participation, which can be a huge advantage for online businesses.
When customers are given the opportunity to add their own markers, they become more invested in the experience. An increase in customer participation often leads to increased loyalty and repeat visits.
Customers also get the opportunity to personalize their experience. By allowing customers to add their own markers on a map, businesses encourage customers to add their own locations or points of interest. These customers have a more personalized experience by adding their own perspective to the map and making it more relevant to their specific needs.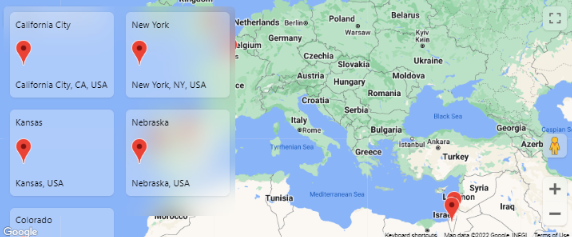 10. Real-time interaction
The Visitor-Generated add-on allows users to interact with each other in real-time. This allows them to exchange information, recommend places, and connect with other visitors. This in turn encourages users to actively engage with the map and collaborate with other site users.
A quick recap…
The Visitor-Generated Markers Add-on is a powerful tool that can help to improve the overall user experience of your website. It offers an easier and simpler way to increase engagement and boost your SEO. 
By allowing visitors to add markers to your map, you are tapping into the collective knowledge of your audience. You're also creating a customized experience that is tailored to their individual needs. Whether you're a blogger, business owner, or marketer, the Visitor-Generated Markers Add-on is a must-have for anyone looking to create interactive maps that truly engage their audience.
So, if you are looking to take your website to the next level, be sure to give this add-on a try! There's a reason WP Go Maps is the best mapping plugin available for WordPress.