If you're looking for a way to add custom markers to your maps, WP Go Maps is a great option. With our plugin, you can easily add markers for things like businesses, points of interest, or other locations of your choosing. You're able to customize the markers to match your website's branding and style. You can even use your own images or icons for the markers, and set them up to display information when clicked. The plugin is easy to use and lets you quickly create custom markers for your map.
Using custom markers on your map can have a huge impact on your website's overall user experience. 
A few benefits of using your own custom markers include:
offering viewers a more interactive encounter
allowing you to show off a bit of your own personality and style
adding a personal touch as people click on a marker to learn more about the location and have a look through the gallery
helping to make your website more memorable
enhancing your map's functionality, and
increasing brand awareness
In this article, we'll show you three ways to use custom markers on your map.
Change all markers
Change a specific marker
Change a marker category
Please note: The steps in this article require the WP Go Maps Plugin and its Pro Add-on to be installed and active.
1. Change all markers
To change the icons of all the markers on your map, follow this navigation:
WordPress Dashboard → Maps → Edit → Advanced Settings → Default Marker Image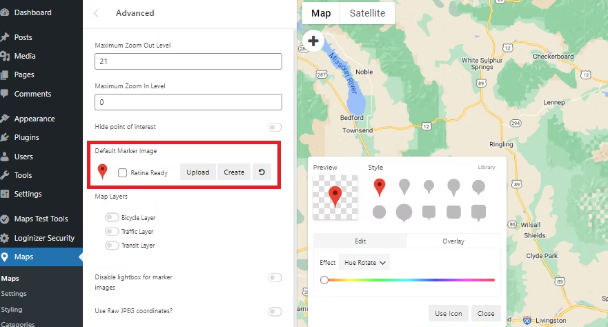 Here you will have the option to either upload an image, or to create an icon. You can create one by selecting a marker style and applying your desired effect (hue, brightness, contrast and more). Add relevant content to your marker in the Overlay tab, which can be either text or icon (font awesome) based. You will also be able to change the size, offset and color of the overlay. You can also go back and select previously created markers by simply clicking on the Library link. Changing all of the markers will create a uniform appearance that flows throughout your entire map.
2. Change a specific marker
To change a specific market on your map, follow these steps:
WP Go Maps → Maps (Edit your chosen map) → Scroll down to the Edit Existing Markers section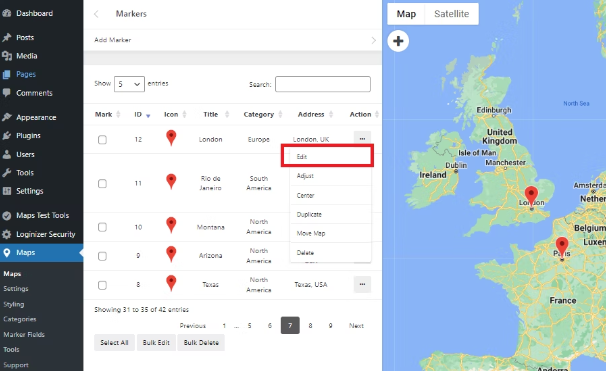 This feature allows you to select a unique icon or image for each individual marker. This is useful if you decide to use images of the location for that particular marker, or if you would like viewers to be able to easily identify the different markers. It offers distinguishable features and allows for easy navigation across the map.
3. Change a marker category
To create or change a marker category, you'll need to follow these prompts:
WP Go Maps → Categories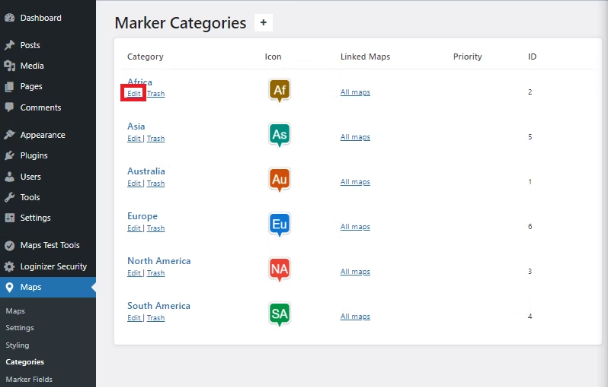 For this method, you'll have to create a category for your markers before you can apply them to the editor. This includes giving your category a name and selecting a marker icon. You can edit the marker icon by selecting "Edit" and uploading an image, or selecting a new marker icon from the Marker Library. Once you've created the category, you are ready to assign it to your markers.
Marker categories are a great way to group markers that share data fields, or that have features in common. Even simply color-coding the icons according to the categories will improve a viewers' interaction with your map.
It's important to be aware of the Priority Setting for categories. If a marker has been assigned to more than one Category, the Icon of the category with the highest priority, is the icon that will be displayed for that marker.
Want to know more?
You can find great custom icons created by Mappity.
Alternatively, we have a selection of free icons on our website.
You can also take a look at our article on The Best Map Marker Icon Collections of 2023.
Remember: Always credit the developer when using icons from a third party.