Before we get started it's important to note that in order to add custom fields and filtering to your map, you will need the WP Go Maps Pro add-on. It's also supported by our Visitor-generated Markers add-on.
In our recent blog posts, we've touched on a couple of reasons why WP Go Maps is the best WordPress map plugin on the market. You can create custom maps, custom markers, select the type of map you want to use, and even give visitors to your site the option to add their own markers. It's the perfect platform to provide an interactive engaging map to go along with your website. And the options to tailor the map to suit your needs and style don't stop there!
In this blog post, we're going to explain how you can add custom fields to your markers, and filter them in a way that makes it easier for viewers to find what they're looking for. If you've clicked on this post then you want to know how to give your audience what they want, in the most convenient way possible. So, let's get to it!
Creating custom fields
Where to start
First, login to your WordPress site.
Scroll down to MAPS.
Select CUSTOM FIELDS.
Adding a custom field
Once you're on the custom fields page, you can add a new custom field. Start off by naming the field (we have opted for "Main Attraction") and select your preferred icon to represent the applicable markers.
Next, click ADD and then SAVE when you're happy with your input.
Adding your custom field to your map
Now that you've created the custom field, it's time to apply it to your map of choice.
Navigate to MAPS, and then EDIT.
Select the map you would like to add the custom field to.
Go to the MARKER panel. From here, you will be able to select the custom field that you've created.
Adding custom field data
To do this, we need to start by creating a few new markers. We can then add the appropriate custom field data to each marker.
Under MARKERS, select ADD MARKER. From here, scroll past CUSTOM MARKER and add the custom field you have created. As you can see next to "Main Attraction", we have used "Lions" as our input. We have chosen three data inputs, namely lions, tigers and bears, for the three respective markers.
This data will show up in the markers' infowindows. If you have enabled the feature, the data will also show up in your page's Marker Listing.
Custom field filtering
Make sure to enable the custom field fileting feature before continuing with this section of the guide.
Navigate to the CUSTOM FIELDS page.
Select your custom filtering widget of choice.
Make sure to click SAVE.
Applying the filter to your map
Now it's time to apply your chosen filter.
Navigate back to the Map Editor.
Select the MARKER FILTERING tab.
Pick the appropriate custom field to enable filtering of markers. (We will select "Main Attraction".)
Remember to hit SAVE.
When you're back on the front end, your widget will appear. This will allow your users to filter the markers of your map in a way that makes it easier for them to find what they're looking for. For example if they had to type "bears" into our search bar, this would be the result: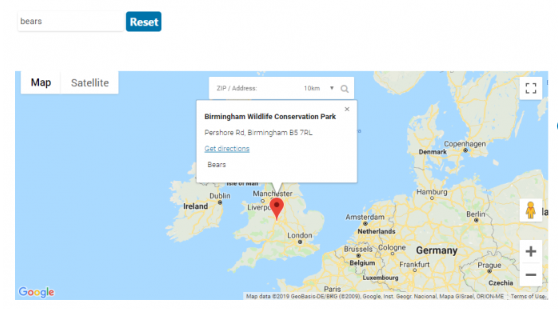 When it comes to selecting a widget for the filters, WP Go Maps offers three options:
Text – This is a simple typed search.
Dropdown – This option aggregates all possible values.
Checkboxes – This is a collection of checkboxes that is also capable of aggregating values.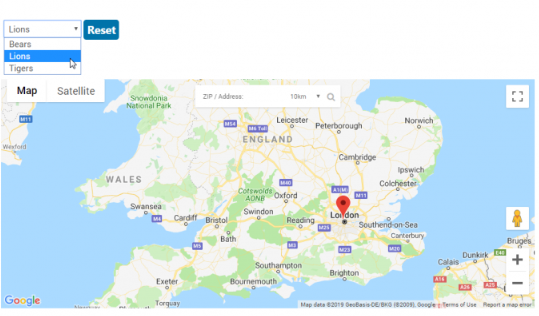 And that's it!
There you have it! A quick guide to adding custom fields and filtering to your digital maps.
WP Go Maps aims to help its users create the most interactive and customizable maps on the market. Its extensive range of features, along with its user-friendly interface and navigation tools, make it one of the most comprehensive WordPress plugins to help improve your website. Studies are even showing that simply having a map on your site will help improve its overall SEO.
If you're looking for a surefire way to take your digital map to the next level, then adding custom fields and fileting could be just the answer you're looking for. You'll enhance the user experience for your audience, and increase satisfaction in the process! 
Have you tried adding custom markers and fields to your map recently? If so, tell us about your experience in the comments section!